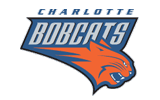 Bobcats UPDATE: MARCH 2009
Welcome back everyone! I know it's been since the All-Star Break, and I sincerely apologize for the lengthy gap between updates. Frankly, due to Booger's Bobcats Blog's low views/feedback, and not much else going on with the Bobs' in recent weeks- I think maybe we were due a break of sorts...
So lets forget where we left off, and start anew for March and April in what looks to be a promising and optimistic rest of the way for Charlotte's 2009 NBA regular season.
The Bobs' record now stands at 26-35, and they are 18 and a half GB in the SE div. Although they are 6-4 over their last 10 games, Charlotte has a long way to go still in their quest to make the playoffs...
MARCH SCHEDULE:
Mar 3 Chi W, 96-80
Mar 6Atl7:00 PM Buy NowMar 7@NY7:30 PM Buy NowMar 10@SA8:30 PM Buy NowMar 13Hou7:00 PM Buy NowMar 14@Min8:00 PM Buy NowMar 16Tor7:00 PM Buy NowMar 18Sac7:00 PM Buy NowMar 20@Tor7:00 PM Buy NowMar 21Ind7:00 PM Buy NowMar 25@Wash7:00 PM Buy NowMar 27@Phi7:00 PM Buy NowMar 28NY7:00 PM Buy NowMar 31LAL7:00 PM
OUTLOOK: I see more than a few games on this tilt that are winnable for the Cats. You gotta think, if they reel off a decent stretch through March- "Uptown" Larry Brown and company will be primed and ready to cruise through what forecast to be a manageable last month of the regular season in April. We will cross that bridge as we come to it, because with the Bobs- It's one step at a time still, and that's exactly how we'll digest it as CHA faithful going forward in '09. The Cats need to focus on their respected matchups with these Eastern Conference foes individually to remain hopeful for a postseason berth. If the B-'Cats happen to squeak in- surely they will do it as the last playoff team, possibly on the regular season's final day...
Stay tuned y'all!! Look for sporadic updates as they come until June... I should be in attendance at TWCA for the March 21st home showdown vs. Indiana, but hopefully I'll sport a solid recap at least before then. GO CATS!! - NC BOOGER
Don't sleep on Raja Bell